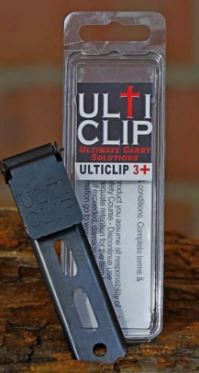 Ulticlip
Designed primarily for holsters this is a great clip for beltless IWB knife sheath carry.
It is designed to provide a maximum clamping thickness of 1/4 inch(that is the equivalent of approximately 7 layers of denim material.  ),that means it can also be used with a belt.  

Orders over $30 use code "ulticlip" for a 10%discount on the ulticlip(only) price.
Product Description
100% American Made
Military Grade Black Oxide Finish
Heat Treated to RC 42-49
C-1075 Spring Steel
Wax Treated Steel – aids in smooth operation & rust inhibitor
Minimum Profile, Maximum Concealment
Over 10X The Retention Compared To Most Holster Clips
Reviews