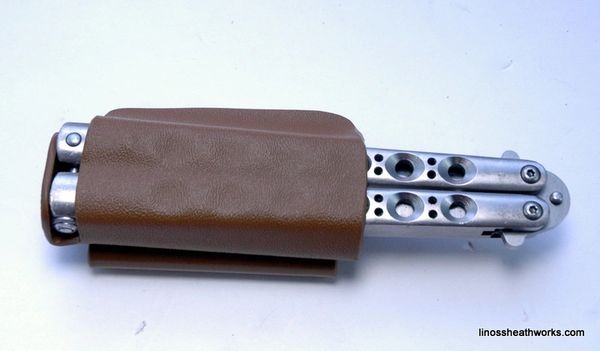 UCH balisong sheath
One piece balisong sheath made from quality .080 kydex for a low profile  horizontal carry
It is the same construction as the UCJD sheath with the only difference the handles rest on a "shelf"
It is a "tang out" sheath designed to be worn with the opening facing down and the tang forward,Thus there is a left side/right side model.
The knife is held securely in the sheath but if you are not comfortable with the idea of having the opening at the bottom you can order the sheath for the opposing hand so the opening is at the top.
Sheaths with  the designation RDBS will release the latch upon drawing the knife.
THE BENCHMADE   SHEATHS ARE
NOT INTERCHANGEABLE 
WHEN YOU ORDER MAKE SURE YOU ORDER FOR THE CORRECT 4X MODEL, SPRING LATCH OR T LATCH  OR FOR THE 6X SERIES
Reviews