BXD balisong belt carry sheath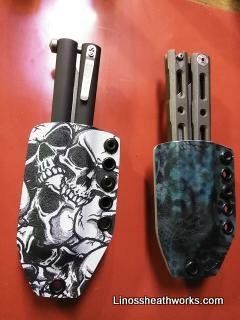 BXD balisong belt carry sheath
With both sides molded  this is the most versatile sheath we offer.
A truly ambidextrous sheath, that allows to carry your knife either right or left side in various positions, vertical, horizontal, angled, inside the waist or on the belt,  with handles facing fore or aft. 
It is also compatible with most belt clips on the market 
Tek Lok small or large , DOTS combat loop,
Soft belt loops for IWB carry, Spyderco G clip 
And lastly 
We  can offer it with the ULTICLIP option  for those who prefer
  inside the pants  carry 
*For more info on the Combat Loop click here : COMBAT LOOP
KYDEX SHEATHS WILL FIT ONLY   THE KNIFE THAT ARE MADE FOR.
THEY WILL NOT FIT CLONES,COUNTERFEIT OR "LOOKALIKES"



Reviews